Nen Daiko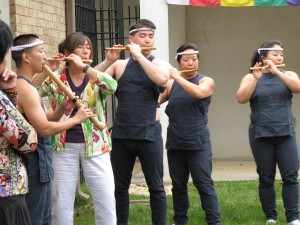 Founded in the fall of 1994, Nen Daiko has performed at many venues in the metropolitan area, including the Kennedy Center for the Performing Arts, the National Theatre, the National Mall, the Jefferson Memorial and Tidal Basin, and the National Japanese American Memorial to Patriotism in World War II.   The group has also appeared at many universities throughout the area, including George Mason University, George Washington University, American University, and Towson University.
The mission of Nen Daiko is to:
Expose the Washington D.C. metropolitan area to the cultural and musical aspects of kumi-daiko.
Continuously improve the group's technical and artistic caliber.
Enhance personal fulfillment through participation.
Find out more at the Nen Daiko webpage.